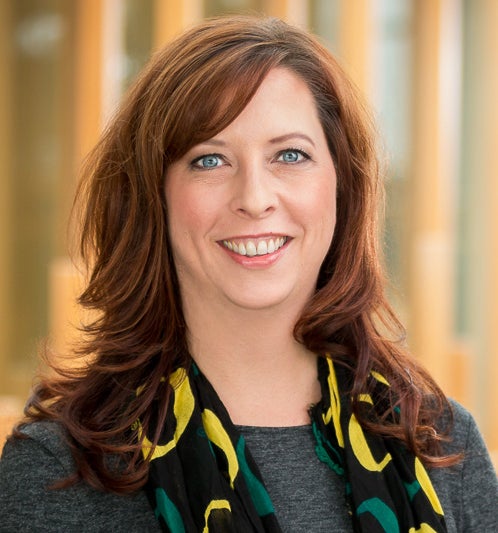 Dr. Kris Winter was appointed interim vice president for the Division of Student Life in July 2022. She joined the University of Oregon in 2016 and has served in several roles including associate vice president for Student Life and dean of students. During her time at the UO, Kris has led countless efforts and programs to support the success, health, and well-being of students at the university.
As interim vice president Kris is responsible for leading the Division of Student Life, an organizational unit broadly responsible for the support of students at every juncture of their UO experience, from first enrollment through graduation.
The Division of Student Life includes the Office of the Dean of Students, the Erb Memorial Union, the Department of Physical Education and Recreation, and the University Career Center, as well as six functional areas that report through the vice president's office: assessment and research, major student events, financial services, human resources, parent and family programs, and student government engagement and success. In addition, the interim vice president serves as the central administration liaison to the recognized student government, the Associated Students of the University of Oregon (ASUO). 
Professional Background
Associate Vice President for Student Life, University of Oregon, 2021–2022
Associate Vice President and Dean of Students, University of Oregon, 2016–2021
Interim Dean of Student Life, Oregon State University, 2016
Associate Dean of Student Life, Oregon State University, 2015
Assistant Dean of Student Life, Oregon State University, 2014
Director, New Student Programs and Family Outreach, Oregon State University, 2003–2014
Orientation Coordinator, Western Washington University, 2001–2003
Interim Director, Student Orientation, University of Oregon, 1998–1999
Educational Background
EdD, Higher Education Leadership, Portland State University, 2022; Thesis: Impacts of non-cognitive variables on the college admissions process for underrepresented, academically at-risk student populations.
Ed M, College Student Services Administration, Oregon State University, 2001
BA, Educational Studies, University of Oregon, 1998